We will continuously change the received wisdom of the industry worldwide with our innovative technology.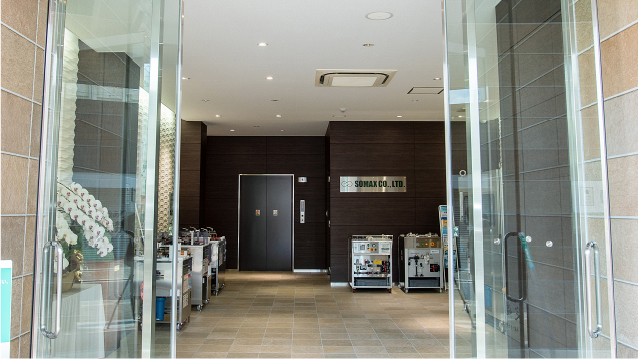 Japanese manufacturing industry that sells globally, especially the plastic products market, should specialize in high performance, multifunctionality, and ultra-high precision to continuously grow and lead the world in the future.
In manufacturing in Japan, we think it most important to continuously pursue perfection, top-notch quality, and precision to aim at nothing short of flawless, pearl-like molding. Molds that are the source of molding are the core of manufacturing, and Japanese molds are the highest level in the world.
SOMAX Co., Ltd. has continued to evolve alongside manufacturing trends by developing, manufacturing, and marketing a plethora of mold maintenance equipment and supplies.
Also in the future, we will enhance our presence and value with manufacturing companies, especially those of molds, as well as in society by practicing our fundamental principle of "putting all our efforts to go beyond conventional thinking about the origin of manufacturing to propose highly original, innovative technologies to industry and contribute to society through our customers."
Your continuous support and patronage is appreciated.
President (Representative Director)
Kazumi Tomita
Philosophy
SOMAX Co., Ltd. is committed to R&D and manufacturing on its own, and it develops products that meet customers' needs by combining the accumulation of our unique know-how with new technology to develop better products.
See details

Commitment to the environment
Coexistence with the environment and acquisition of ISO14001 accreditation
"Restoring the same level of brightness as a new mold without damaging the mold" is the basic concept of CLIPIKA ACE. SOMAX Co., Ltd. contributes to global environmental conservation by conducting lean perfect mold cleaning using rational methods to extend the life of molds and eliminate molding defects.
See details

Company Name
SOMAX Co., Ltd.
Head Office Address
1-7-17, Tamatsu, Higashinari-ku, Osaka 537-0023
TEL
+81-6-6976-1108
FAX
+81-6-6977-5702
Foundation
June 26, 1991
Capital
¥50,000,000
President (Representative Director)
Kazumi Tomita
Type of Business
Manufacturing and selling paste welding machines, electrolytic and ultrasonic mold cleaning machines, special cleaning solutions and water-based anti-rust agents
Corresponding Banks
Resona Bank, Limited., Tamatsukuri Branch;
MUFG Bank, Ltd., Senba Branch
Jun. 1991
We built the "MOLPET" the world's first paste welding machine that does not emit UV light.
SOMAX CO., LTD. was established at the same time that the MOLPET was launched for use in mold repairs.
The MOLPET resonated with manufacturers of plastic injection molds as a welding machine capable of repairing microscopic damage with the first paste welding material in the world.
Oct. 1997
Completed construction on new offices at Oimazato, Higashinari-ku, Osaka, to respond to increasing sales items and larger products
Oct. 1998
Completed construction on a sales headquarters building to expand business
Oct. 1999
Increased capital to ¥20,000,000
Oct. 2000
Increased capital to ¥30,000,000
May 2003
Completed construction of Technical Domain at Higashinari-ku, Osaka
Apr. 2004
Acquired ISO14001 accreditation
Apr. 2005
SOMAX CO., LTD. merged with TEIKOKU MICRO CO.
Increased capital to ¥50,000,000
Jan. 2006
Relocated the head office to 1-7-17 Tamatsu, Higashinari-ku, Osaka
Jan. 2006
Newly established the Takaida Factory at 15-5 Takaida, Higashi-Osaka
Jul. 2015
Completed construction on the head office west wing
Sales Dept., Head Office and Head Office West Wing
View a larger map
[JR]

• Approx. 7-minute walk from JR Tamatsukuri Station on the Osaka Loop Line

[Osaka Metro]

• Approx. 7-minute walk from Exit 1 of Imazato Station on the Osaka Metro Sennichimae Line and Imazatosuji Line
• Approx. 10-minute walk from Tamatsukuri Station on the Osaka Metro Nagahori Tsurumi-Ryokuchi Line

[Car]

• Take Nagahori-dori to the east approximately 1 km from Tamatsukuri Station. Turn right at the "Tamatsu 1" intersection, then turn left at the second traffic light and drive straight.
| | |
| --- | --- |
| Location | 1-7-17, Tamatsu, Higashinari-ku, Osaka 537-0023 |
| TEL | +81-6-6976-1108 |
| FAX | +81-6-6977-5702 |
View a larger map
[JR]

•7-minute walk from Takaida Chuo Station on the JR Osaka Higashi Line

[Osaka Metro]

• 7-minute walk from Takaida Station on the Osaka Metro Chuo Line

[Kintetsu]

• 11-minute walk from Kawachi-Eiwa Station on the Kintetsu Nara Line
| | |
| --- | --- |
| Location | 15-5, Takaida, Higashiosaka, Osaka 577-0053 |
| TEL | +81-6-6781-6655 |
| FAX | +81-6-6618-7408 |