In addition to our main products, we offer other items to enable customers to maintain molds more safely, efficiently and comfortably.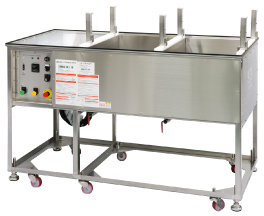 Multi-purpose sink
■The sink is useful for water washing and drying molds cleaned with the CLIPIKA ACE.
■The height of both the sink and the main body is the same as that of the CLIPIKA ACE to make the layout neat.
■The basket can be shared with the CLIPIKA ACE to eliminate the need for moving mold parts between different baskets.
■It can be customized for requirements such as the connection of three or more sinks and the addition of ultrasonic equipment.
Free

Request documents / Request for a demonstration
Free

Request documents
Request for a demonstration

We support you with a demo machine
for free anywhere in Japan.
Online demonstration are also available for free!