R&D and manufacturing on our own
Research / Development / Manufacturing
SOMAX CO., Ltd. is committed to researching, developing and manufacturing its own products.
This is because we believe that we can only provide truly good products by integrating sales with the R&D and manufacturing of mold cleaning machines and cleaning solutions.

We develop products to meet customer needs by responding to the feedback of customers and combining the accumulation of our unique know-how with new technology to develop better products.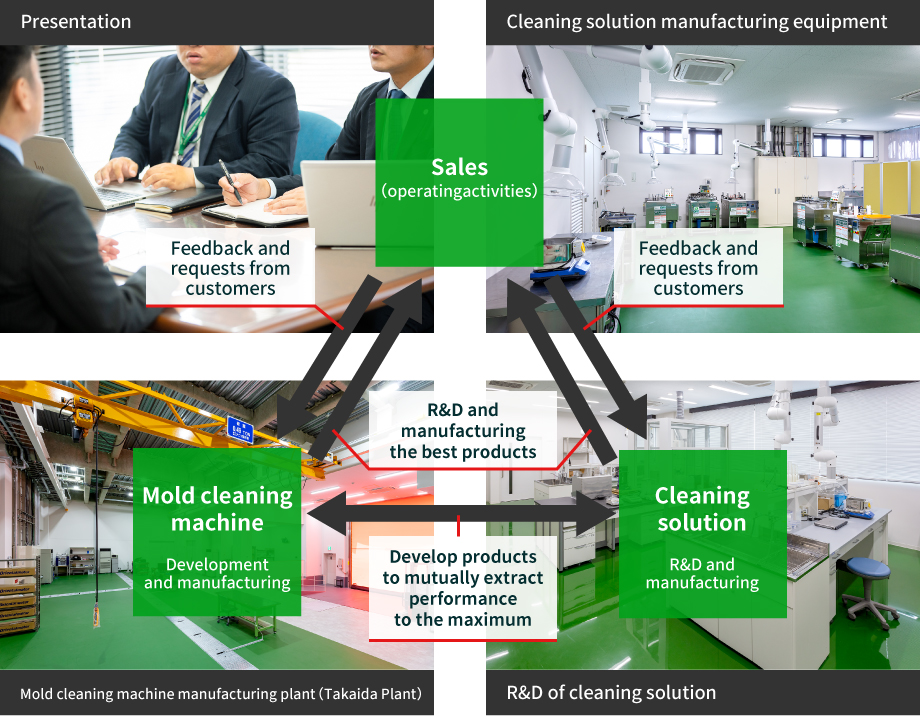 Manufacturing safe and secure products
with the introduction of advanced
equipment for R&D

In addition to the pursuit of cleaning power, we carry out product development by checking for damage to molds.
Also, we endeavor to produce safe and secure products with the introduction of advanced equipment for R&D.

Expansion of the follow-up service system

We endeavor to provide careful service all over Japan so that customers can use our products with ease.
history of approximately 30 years is a sign of trust.
Uncompromisingly advanced research and development equipment
R & D Equipment

Standards for the accuracy of optical components such as lenses and light guide plates become increasingly advanced year by year including the recovery of their brightness and the maintenance of their reproducibility.
SOMAX Co., Ltd. sticks with its research and development equipment to respond appropriately to customers who would not miss any adhesion of dirt even at the nano or micron level.

We confirm not only that fine dirt has been completely removed but also that the customer's important mold has not been damaged even at the nano or micron level. We believe that this is most important for customers to use SOMAX products with confidence.

Electron microscope(5x to 300,000x)

We respond to the increasing precision of molds, by using an electron microscope to observe mold surfaces in detail.
It can observe up to a magnification of 300,000 times with an observation area as wide as 125 mm in diameter.
It is equipped with a CCD camera and is linked to the stage coordinates thereby allowing observations before and after cleaning as if it were an optical microscope.

Energy dispersive X-ray analyzer(EDS)

It is impossible to judge any problems on mold surfaces only by observing stains after cleaning, carbonized resin, and dust from the air, and discoloration and corrosion by corrosive gas.
We can obtain a quantitative map (distribution map) of various elements; therefore, we can read visually what elements are distributed where.
In particular, in the optical field, where molds are becoming finer and more sophisticated, we are playing an active role in clarifying the components of mold surface contamination.

Laser microscope(200x to 18,000x)

Most of the molds for optical components, which are the target of the CLIPIKA ACE OPT, are subject to microfabrication at the micron level or less; accordingly, extremely high inspection accuracy is required to detect small amounts of foreign material residue or damage to plating surfaces.
Ordinary equipment cannot distinguish whether minute shape changes on mold surfaces are foreign material residues or pores caused by damage.
Therefore, we adopted the latest-model laser microscope to inspect minute shape changes accurately.
It can make observations with a super-high resolution of 1 nm using a violet semiconductor laser light source.

Optical microscope(20x to 5,000x)

It is a full-color optical microscope configured to be used in various situations which can not only photograph samples with high precision but also correct differences in focus due to differences in depth.
It is also used for evaluating cleaning tests and investigating the causes of problems.

Table coach

The table coach is used to create a localized class-1 clean room environment.
Even optical molds that are sensitive to dust can be cleaned and tested under the world's cleanest environment.

Thermo hygrostat

It is used in cleaning solution stability tests and material stability tests.

High purity water treatment equipment

SOMAX Co, Ltd. has adopted high purity water treatment equipment (water quality: 18.2 MΩ-cm) to attain high cleanliness.
It is used for manufacturing the cleaning solution for the CLIPIKA ACE OPT and for washing with water after cleaning molds for optical components.